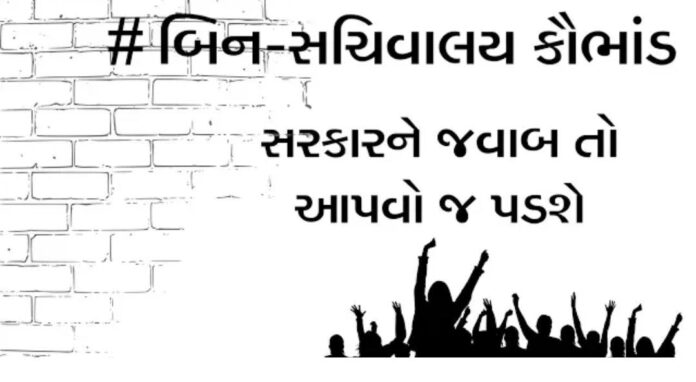 Join Our Telegram Channel
Join MPHW/FHW Telegram Channel
Join Our Whatspp Group
Get Free Books

On November 17, a major ruckus had broken out as the exam began at Gujarat's Surendranagar's MP Shah Arts and Commerce College. Several candidates taking the exam alleged that the envelope containing the question papers had already been torn, hinting towards a leakage. Following this, more than 200 students refused to take the exam and left the classroom to protest outside the centre. Over 10 lakh candidates applied for the 3,771 posts of class III non-secretariat clerk and office assistant.

The authorities, however, have denied any sort of paper leak. "It was just a human error. When the paper was delivered at the principal's office, both seals were intact. There were two envelopes containing one paper. While the seal of the inner envelope containing the paper was intact, the seal of the outer envelope was found torn when it was brought to the classroom," an official said, according to a TOI report.

However, the students and netizens on Twitter do not seem to agree. People have called on the central government to intervene and take steps against corruption and finally deliver justice to the candidates.
The examination was earlier supposed to be held on October 20, which had been cancelled by the Gujarat government and they set the date as November 17, 2019
આવેદન પત્ર માટે ક્લીક કરો : https://forms.gle/neYe6jdumnBgTQbb6
GSSSB Feedback form : https://gsssb.gujarat.gov.in/feedback.htm
(તમામ મિત્રો આ લિંક ઓપન કરી ને ગૌણસેવાની વેબસાઈટ પર વિરોધ રજુ કરો)
GSSSB ના અધિકારીઓના ફોન નં. : https://gsssb.gujarat.gov.in/officer-list.htm
(ગૌણસેવા મંડળના અધિકારીઓને ફોન કરી ને ગેરરીતિ અંગે ફરિયાદ નોંધાવો)
Twitter hashtag : https://twitter.com/OnlineGpsc/status/1197111710739398656?s=20
(આ ટવીટ ને આપેલ હેશટેગ સાથે બધા મંત્રીઓ ને ટેગ કરો – #cancelbinsachivalayexam )